About Steve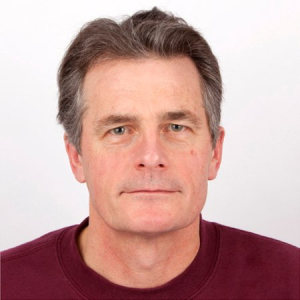 Steve has been working on British cars, amongst others, for around 50 years. His specialty are cars from the BMC/BLMC stable. In the 1970s he lived in Wallingford, which is about 8 miles from Abingdon on Thames, of MG fame, and 15 miles from Cowley, Oxford, where BMW make the current Mini. His personal car fleet includes a 1967 Austin Mini Countryman, a 1970 MGB GT, a 1974 Triumph TR6, a 1977 Triumph Dolomite Sprint, a 1978 Mini 1275GT, and a 1980 Triumph TR8.
All aspects of mechanical, electrical and trim work are undertaken, including repairing engines, gearboxes, wiring, etc.
Professionally, Steve is a retired Engineer who has worked all over the world in various Engineering roles for large corporations. He has a Bachelors degree in Engineering Science from the University of Durham (UK). He is also a Member of the Institution of Mechanical Engineers, as well as being a Chartered Engineer. These are the UK's equivalent of a P.E. in the USA.
He is more than happy if the owner wants to get involved in the project. That saves time & money, whilst adding involvement and providing education. It's also more fun!
Steve is currently located in North-West Downers Grove, Illinois, close to I-355 and I-88. Advice and consultation are readily available.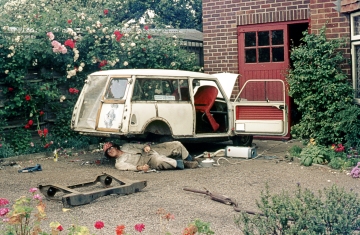 Projects
2021 On-going & currently scheduled
1973 TR6, new windshield rubber seals
1971 GT6, running issues
1969 MGB, return to the road
1972 MGB, engine & trans mounts
1973 MGB, replace wiring harness
1977 MGB, install engine & trans
1966 Land Rover, return to the road
1973 MGB GT, replace A arms
1970 MGB, brakes & shocks
1965 MGB, check over
1980 TR7, tune up
1977 Spitfire, clutch master
1967 AH 3000, tune up
1957 AH 100/6, ignition switch
1976 MGB, V8 conversion
1952 MG TD, return to the road
1966 MGB, replace exhaust
1964 TR4, get it going
1979 TR7, return to the road
1973 MGB, get engine going
1977 MGB, new radiator
1967 Alpine #2, return to the road
1971 MGB, clutch replacement
1976 MGB, engine rebuild
1972 MGB GT, overdrive not working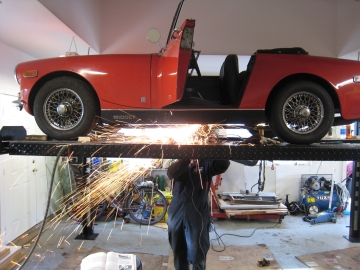 Previously completed
2021
1970 MGB GT, fix overdrive
1976 TR6, return to the road
1973 MGB GT, differential whine
1969 MGB, replace clutch
1971 MGB GT, replace clutch
1970 TR6, replace clutch
1954 MG TF, brakes & engine mounts
1977 Dolomite, rebuild carbs
1978 Mini, new radiator fan
1980 MGB, front suspension rebuild
1970 MGB, exhaust replacement
2020
1972 Spitfire, brake master, calipers etc.
1977 Spitfire, brake master
1980 TR7, brakes
1967 Mini, interior trim
1980 TR8, brake booster, master etc.
1954 MG TF, fuel leaks
1973 MGB GT, steering column
1971 MGB GT complete brake job
1977 Dolomite, steering knuckle
1980 TR7, check over
1977 Spitfire, handbrake & radio
1967 Mini, CV joints and drive flange
1960 AH 3000, not starting
1974 Midget, rear brakes & clutch slave
1979 MGB, rear brakes & oil seals
1978 Spitfire, wiring issues
1957 AH 100/6, starting & running issues
1967 Alpine, engine rebuild & on the road
1973 MGB GT, check over
1963 MGB, brake master cylinder
1967 AH 3000, brake repairs
1980 TR8, replace heater
1972 MGB, fix lights & wipers
1977 Dolomite, engine & trans mounts
1980 MGB, coil & electronic ignition
1974 MGB, replace clutch
1977 MGB, replace ignition switch
1980 TR8, replace door seals
1970 TR6, tune up
1970 MGB GT, alternator, exhaust leak
1977 MGB, general check over
1963 AH 3000, tune up
1978 MGB, differential knock
1972 Midget 2, return to the road
1959 MGA, return to the road
1977 Spitfire, not starting
1973 MGB, gas tank & tune up
1972 MGB, overdrive & supercharger
1974 MGB, engine mounts and alignment
1972 TR6, replace clutch & seals
MGB & Midget, rebuild front kingpins
1975 MGB, clutch master rebuild
1973 MGB, replace transmission mounts
1972 TR6, head gasket & check over
1980 MGB, replace starter relay
1977 MGB, return to the road
1973 MGB, clutch hydraulics & brakes
1977 Dolomite, clutch & brake masters
1969 MGB, install s/s exhaust
1973 MGB, front suspension rebuild
1980 TR8, replace door locks
1973 MGB, replace complete interior
1973 MGB, front suspension & brakes
1977 MGB, build engine
1971 MGB, clutch, choke & body issues
1979 Midget 1, returned to the road
2019
1979 Spitfire, head gasket, gearbox & suspension
1978 Mini steering rack & rubber cones
1968 MGC, replace head gasket
1974 TR6, water heater valve
1967 Mini Countryman, complete restoration
1957 AH 100/6, fuel system & starter
1972 MGB, replace radiator
1975 MGB, replace front shocks
1973 MGB, rebuild HIF carburetors
1969 Mini, clutch actuation rebuild
1974 MGB, front suspension inspection
1975 MGB, replace fan belt
1973 MGB, rear brakes & oil seals
1975 MGB, engine mount replace
1975 MGB, new convertible top
1970 MGB GT, gas tank & exhaust
1967 Morris Traveller, brakes & radiator
1976 TR6, check over
1974 MGB, front carburetor repair
1976 MGB, clutch replace
1977 MGB, alternator & water pump
1974 Spitfire, check over, adjust & lube
1977 MGB, put in overdrive
1974 MGB, front stub axle rebuild
1972 MGB GT, cruise control & oil hose
1969 MGB, front suspension & brakes
1974 MGB, return to the road etc.
1974 MGB, condition evaluation
1967 GT6, carburetor check over
2018
1979 Spitfire, return to the road etc.
1978 Mini 1275, water pump & radiator
1971 MGB, carb & fuel issues
1975 TR6, front suspension rebuild
1953 MGTD, brake & carb adjustment
1979 MGB, exhaust & alternator
1989 Mini, wood dashboard replace
1978 Mini, brake master rebuild
1980 TR8, water pump & check up
1979 MGB, convertible top replace
1958 AH Bug Eye, build 1275 engine
1969 MGB, front suspension bushes
1974 MGB, various electrical gremlins
1980 MGB, various electrical gremlins
1974 MGB, distributor replace
1974 TR6, wiring issues diagnosed
1979 Midget, carb rebuild
1980 TR8, rear brakes & belts
1978 Mini, head gasket replace etc.
1970 MGB GT, fuel pump replace
1977 MGB, gearbox rear oil seal replace
1972 MGB GT, oil pressure hose replace
1974 MGB, brake master & clutch slave
1974 MGB, kingpins & carbs
1973 MGB, water pump replace
1977 MGB, S R gaiters, engine mounts
1989 Mini, clutch master replace etc.
1974 TR6, brake calipers & servo
1963 AH 3000,replace trans mounts
1957 AH 100/6, wiring & fuel pump issues
1977 MGB, brake servo replace
1978 MGB, windscreen replace
1972 Spitfire, clutch master, rad hose etc.
1974 TR6, clutch replace
2017
1975 TR6, restore to the road
1973 MGB, repair gearbox
MG TD, fuel pump & tune up
1957 MGA, rear crankshaft oil seal
1970 MGB GT, front valance & bumper
1974 TR6, bottom radiator hose replaced
1973 MGB, rebuild & reinstall engine
1980 MGB, return to running service
1978 TR7, carburetor rebuild
1970 GT6, replace head gasket
1972 MGB GT, tune up
1967 MGB, repair sticking choke
1973 MGB, tune up & fuel sender
1976 TR6, LED gauge lights & heater flush
1962 MGA, rebuild front suspension
1960 Austin Healey, seat belts & brake light
1978 MGB V8, T5 transmission oil leak
1973 MGB, replace brake master cylinder
1972 TR6, clutch replace
1973 MGB GT, carbs rebuilt
1974 TR6, front suspension rebuild
Morgan, clutch & starter ring gear
1958 AH Bug Eye, Engine work
1968 MGC, clutch hydraulics
1977 MGB, overdrive repaired
1977 MGB, top replaced
1964 TR4, replace front brakes
2016
1979 MGB, running hot & electric fan
1961 Morgan, carbs adjusted
1970 Spitfire, clutch replacement + tune up and new clutch & brake hydraulic parts
1964 Morris Minor, return to running order after 12 years, brakes, starter, battery etc.
1965 MGB, engine oil pressure issue
1973 TR6, windshield installed
1973 TR6, engine and rear susp. rebuild
1964 TR4, check over & resolve fuel leaks
1979 MGB, replace gas tank
1965 MG Midget, new rear leaf springs
1977 MGB, Weber carburetor to twin SU's
1979 MG Midget, investigate oil leaks
1972 MGB, tune up & brake adjustment
1973 MGB GT, general electrical work
1973 MGB, front suspension bushes
1967 MGB, broken cylinder head stud
1975 MGB, new brake hoses
1979 MG Midget, fix oil leaks
1973 MGB, front wheel bearing play
1980 MGB, replace camshaft & tappets
1969 MGC, radiator & water pump replace
1957 Austin Healey, Spin on oil filter fitted & brakes adjusted
1974 MGB, replace interior
1961 TR3, strip for restoration
1974 MGB, replace clutch hydraulics
1973 MGB, HIF carbs rebuild
1975 MGB, replace fuel pump
1978 MGB, replace gearbox mounts
1973 TR6, build engine
1978 MGB, engine strip & build to 1865cc
1973 MGB, clutch & install overdrive
1965 MGB, remove & rebuild engine
1967 MGB, remove engine & fix oil leaks
2015
1961 TR3A, tune up, steering adjustment etc.
1979 MG Midget, replace brake master cylinder
1960 Bug Eye Sprite, tune up
1974 MGB, replace fuel pump and tank
1961 VW Beetle, front suspension rebuild
1977 MGB, find & fix electrical drain
1970 MGB GT, upgrade to overdrive transmission and air conditioning
1975 MGB, engine & transmission removal for repainting the engine bay
1974 MGB, install new convertible top
1952 MG TD, replace crankshaft oil seal
1973 TR6, return to running state
1980 MGB, replace clutch hose
1979 MGB, repair faulty horn and radiator fans
2003 Mini Cooper, troubleshoot and repair overheating problem
1970 MGB GT, rebuild clutch master cylinder with new seals
1978 MGB, new engine mounts & speedo drive gear
1958 MGA, replace brake/clutch master cylinder, rebuild rear wheel cylinder
1974 Jensen Healey, post purchase evaluation for owner
1978 MGB, rebuild rear brakes including wheel cylinders, shoes and drums
1957 Austin Healey, replace the clutch, install new exhaust and repair the choke mechanism
1965 MGB, tune up
1972 MGB GT, repair cruise control and add 3rd high level brake light
1964 Spitfire, tune up
1972 MG Midget, remove & replace Steering rack
1979 MG Midget, replaced front shock absorbers
1960 Bug Eye Sprite, carburetor rebuild
1975 MGB GT, complete unfinished restoration
1976 TR6, rear shocks & front ball joint replacement
1980 MGB, return to running order
1965 MG Midget, tune up
2014
1960 Mini replace steering rack
1973 MGB GT engine 'refresh'
1974 TR6 restoration & rebuild
1977 MGB return to running order after several years in storage
1973 MGB GT upgrade to HS6 carburetors
1960 Austin Healey Splrite brake/clutch master cylinder replaced & systems bled
1967 Mini exhaust replaced
1976 MGB brake master cylinder replaced & system bled
1971 MG Midget new convertible top installed
1974 MGB convertible top replaced
2003 Mini Cooper oxygen sensor replaced
1969 MGB check out some wiring & running issues
1957 Austin Healey 100/6 replacement front wheel cylinders, installed electronic ignition
1960 Morris Minor Pickup to get into a running state
1972 MGB transmission swap and hydraulic systems refurbishment
1973 MGB steering rack replacement
1979 Midget front suspension rebuild and replacement Universal Joints on the propshaft
2009 Mini Cooper brake replacement, pads, rotors, wear sensors etc.
MGB starter motor replacement
1979 MG Midget general condition check
MGB engine build from reconditioned parts
2013
1979 Triumph Spitfire rear spring replacement
1974 MGB engine & gearbox removal for overdrive rebuild
1971 TR6 general renovations
1970 MG Midget tune up
1961 Mini front & rear suspension overhaul
2009 Mini Cooper Clutch replacement
1957 Austin Healey Brake master cylinder replacement
1974 TR6 Convertible top replaced
1972 MG Midget - Replaced dashboard, replaced starter motor & installed Electronic Ignition
1960 Triumph Herald Engine assembled
1975 MGB Flywheel & clutch replaced
1976 MGB engine replaced
1978 MGB cooling fans installed
1979 MGB Carpets replaced
2012
TR6 - Rebuild front Brakes & suspension. Replace suspension bushes in polyurethane
MGB - Remove Engine & transmission & replace clutch & overdrive
MGTD - Replace brake wheel cylinder
MGA - Resurrection after 4 years not in use. Including repairing seized engine, rebuild front suspension & replacing engine mountings and all things rubber.
MGB - Replace single Stromberg with twin HS6's Carburetors.
MG Midget - Replace radiator
MGB - Replace rear hub oil seals & steering rack gaiters
TR6 - Replace convertible top
MGB - Replace fuel pump
MGB - Replace Front brake calipers & pads
Spitfire - Evaluation for resurrection after 15 years storage
Morgan - Replace differential oil
MGB - Complete wiring loom replaced
Mini - Replace rear brake wheel cylinder seals
MGB - Fitted Cross flow cylinder head
2003 Mini Cooper - 100,000 mile service
1967 Mini Countryman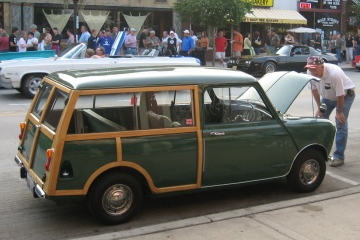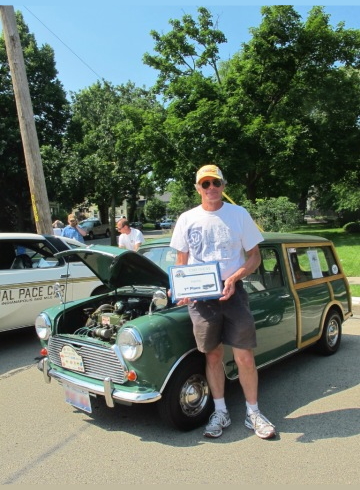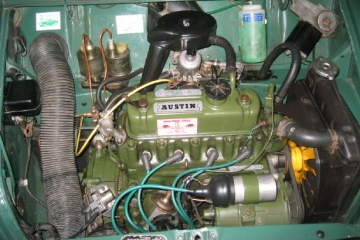 1970 MGB GT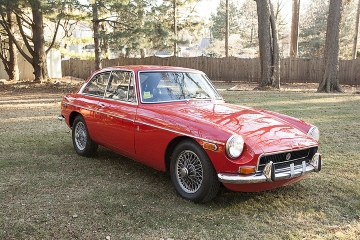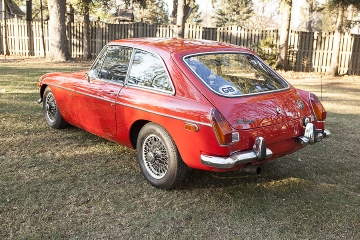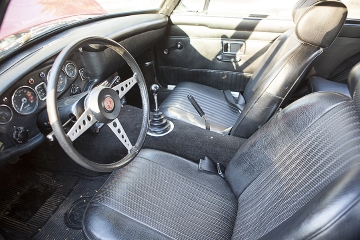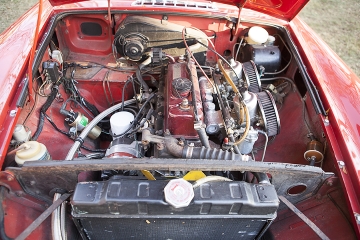 1974 Triumph TR6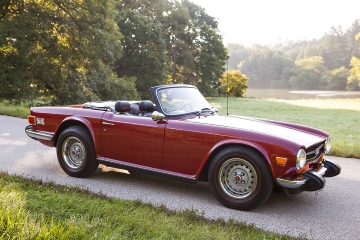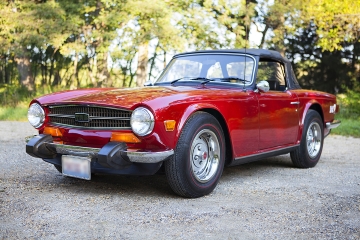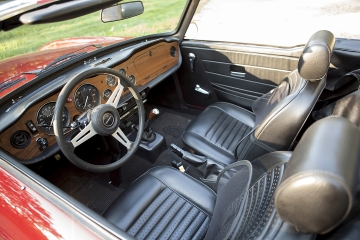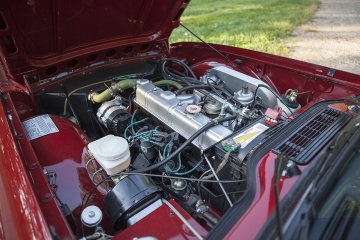 1977 Triumph Dolomite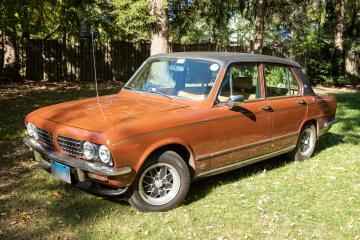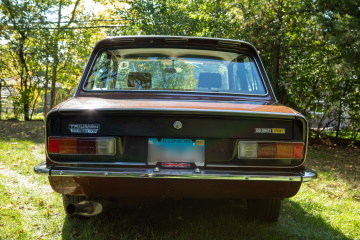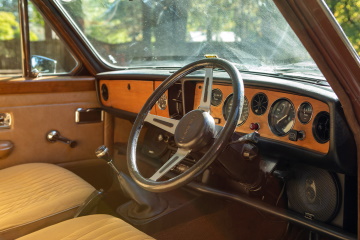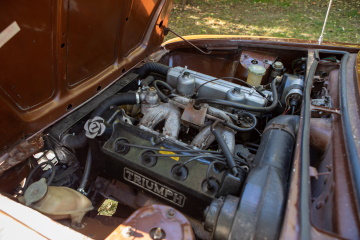 1978 Mini Clubman 1275GT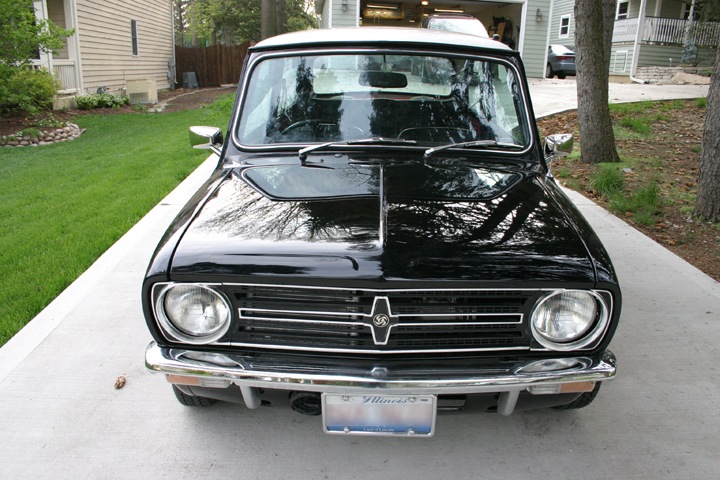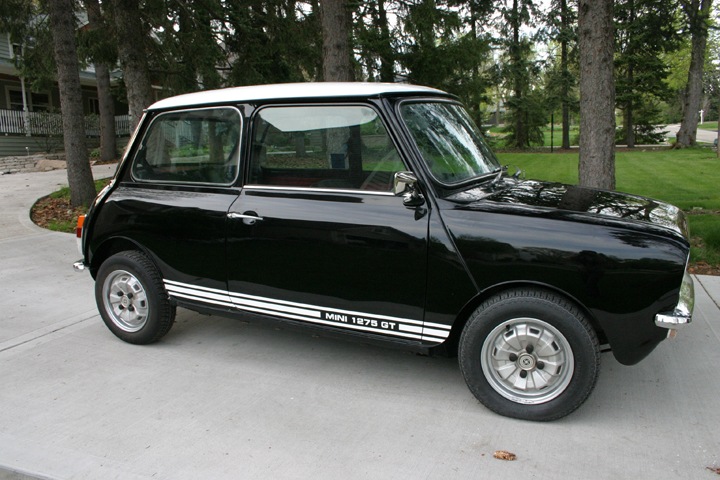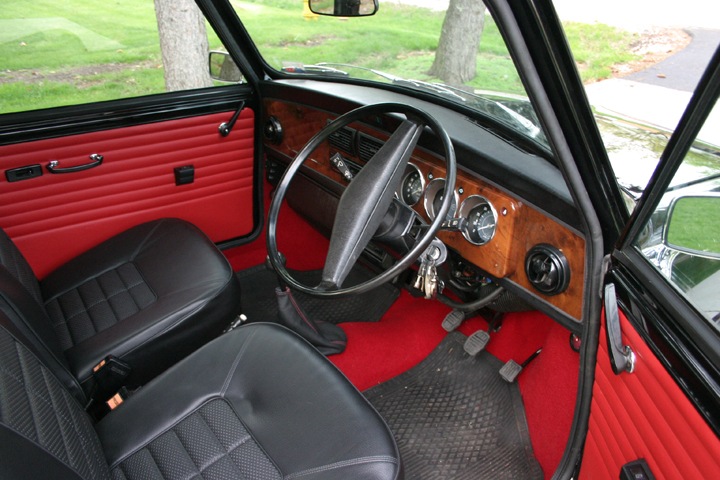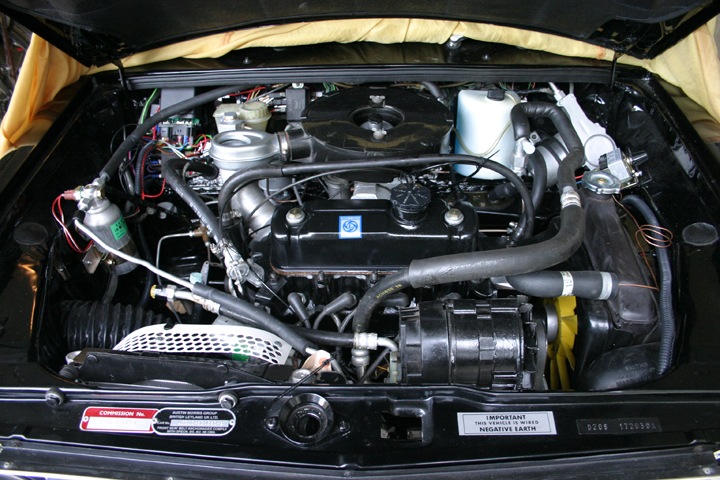 1980 Triumph TR8